MWP.com Monthly Video Contest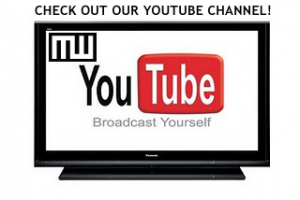 Win a $100 gift card to the MWP Bookstore by uploading your short film!
It's easy to enter the contest and share your short film with family, friends and other video enthusiasts. The more your video is watched, the better chances you have at winning the $100 gift card to the MWP bookstore. Follow these steps to enter your video:
1. Enter your contact information into the form
2. Read and agree to the Terms & Conditions
3. Enter in the title for your video
4. Upload your video
5. Submit your entry
Good luck!

View Our Youtube Channel
CONTEST RULES:
ELIGIBILITY: MWP.com Video Contest is open to everyone 16 years and older. Participants are ineligible if they are related to any employees, owners or managers of MWP.com, its agents and subsidiaries. By participating, entrants agree to be bound by the Contest Rules and Terms and Conditions of the Contest. MWP.com, its agents and subsidiaries are not obligated to verify eligibility qualifications of any entrant or winner. MWP.com, its agents and subsidiaries have the right to exclude any entrants at its sole discretion.
CONTEST RULES: Participants may submit up to 3 entries. All submissions must be received on or before the last day of the month. Late entries will not be accepted. All submissions must be original work and must not violate any copyright laws. All entrants are warranting that all entries are original and do not violate copyrights of any third parties and will hold MWP.com as harmless in case of any alleged or actually copyright infringement. Late entries will not be accepted. MWP.com, its agents and subsidiaries are not responsible for any technological problems or other factors that result in a late entry.  MWP.com retains the right to extend submission and voting deadlines at its sole discretion and without advance notice.
HOW TO ENTER: Beginning January 1, 2011 through December 30, 2011 entries may be submitted as follows:
Visit mwp.mwp.com and click on the "VIDEO CONTEST" banner/link
Click on any of the "Submit Your Video" buttons that will take you to the registration form. Fill out the form and agree to the Terms and Conditions.
Each video entry must include a name for the video. Videos may be posted on YouTube and in the official blog. Note: You will not be allowed to enter the contest if you do not agree to the Terms and Conditions.
VIDEO CRITERIA: All videos must:
Be no longer than 3 minutes in length.
Must be appropriate for general audiences and must not contain any pornographic material.
Must be submitted in avi, mov, mpg or wmv format.
Video files may not exceed YouTube limits.
Videos will be reviewed for appropriateness. Those videos deemed appropriate based on the above criteria will be posted on MWP.com blog and Official YouTube Channel.
Determination of Winner:
YouTube scoring will be determined by the number of views each video receives.  Voting will end on the last day of the month. The winner will be announced on the 5th day of every month and posted on the MWP.com blog.
If there is a tie, MWP.com will choose a winner based on the following criteria (and at its sole discretion):

Creativity
Message clarity and relevance
Overall impact
Entrants are permitted to promote their entries on YouTube and through Social Bookmarking sites listed above. Inappropriate promotion (including setting up automated views on YouTube) can result in disqualification.
Only views on MWP.com's official YouTube channel will count towards determining a winner.
PRIZE: The Winning Video will receive a $100 gift certificate to be redeemed at the MWP.com Bookstore.